Based on the awesome story
Sick verse
by writeatmidnight.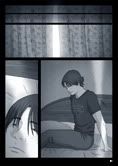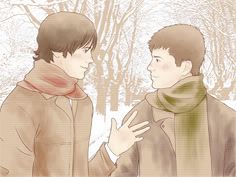 Warning: Not dial up friendly.
Wow, its been a while, and here I am again :D
This page wasnt so hard to make, once I actually started drawing it. There's no dialog, but I think it looks good anyway. Jared is a bit funny in 2nd panel, and I really like his face in 3rd. Uh... I just realized that I forgot the yawn...oops :P
Next
I think you all know by now that every 10th page comes with a goodie. The 50th page didnt, because I was swamped with work, and I kind of got into an artist slump =_=, so Im posting it now, along with the new community banner :D
Hehe, this wallpaper was kind of tricky to make. Actually this style just happened by accident XD I was pondering on how to make the boring smooth surface look more interesting, and so I just pasted in some random wallpaper texture and chose a random filter. What came out was interesting looking "cardboard" thingie, so I decided to continue messing around with textures.
I hope you'll like the result of me messing around in photoshop XD
Also, a lil recommendation for those that love drama, romance and hot sex. I found a manga that literally blew me away with all the twists, sad and funny moments, and beautiful art. Also to those that are not familiar with Japanese manga, its read from right to left. Just click on the image to jump to manga :)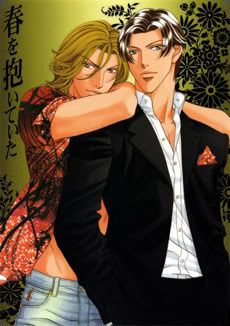 PS. Next page is half finished so it should be up next weekend :)
CH1 Cover
Page 1
°
Page 5
°
Page 9
°
Page 13
°
Page 17
°
Page 21
°
Page 25
°
Page 29
°
Page 33
°
Page 37
°
Page 41
°
Page 45
°
Page 49
Page 2
°
Page 6
°
Page10
°
Page14
°
Page 18
°
Page 22
°
Page 26
°
Page 30
°
Page 34
°
Page 38
°
Page 42
°
Page 46
°
Page 50
Page 3
°
Page 7
°
Page11
°
Page15
°
Page 19
°
Page 23
°
Page 27
°
Page 31
°
Page 35
°
Page 39
°
Page 43
°
Page 47
Page 4
°
Page 8
°
Page 12
°
Page16
°
Page 20
°
Page 24
°
Page 28
°
Page 32
°
Page 36
°
Page 40
°
Page 44
°
Page 48